Sunday, November 28, 2010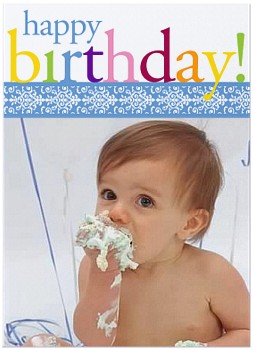 Happy Birthday Damask Birthday 5x7 folded card

Posted by

The Burns Family
at 6:00 PM
1 comment:

Friday, November 5, 2010
First, some fun little stories to share...

We went to

Publix

the week after Halloween and Elijah saw a woman dressed up in a leopard print shirt and skirt. As we walked by her, he said (loudly), "Mommy! That's lady's dressed up like a leopard! Is that her

halloween

costume? Mommy why is she dressed up like a leopard?!"

LOL

Could I be a mature parent and hold in my laugh? ummm...no.





Elijah

just asked me if I would set up our blow up bounce house again, and looked up at me w/ little puppy dogs eyes....

Mom: Where did you get those puppy dog eyes?
Elijah
: These are not puppy dogs eyes. These are green eyes.

Mom: Well where did you get those puppy dogs eyes?

Elijah:
From the store

Mom: What store?

Elijah
: I got my puppy dog slippers from the store

Mom: Well what about your puppy dog eyes?

Elijah
: These are not puppy dog eyes. These are real eyes.

Mom: Are they?

Elijah
: Yes. they're real eyes that blink... (eyes batting)

Mom: Well where did you get your real eyes from?

Elijah
: I got my real eyes from God.



When Elijah gets mad, his first instinct is to say "Stupid dog!" so weird.... I don't know where he learned that from........(I really have only said it a few times under my breath! And just to let you know, some character says in in Toy Story as well...)


Anytime my phone rings, Luke says "Dadda?!"


Elijah affectionately calls Luke "Lukey"


Nighttime is a precious sight to see at our home...after we're all ready for bed, we all get on our knees - including Luke - hold hands, and Elijah says the whole Lord's prayer. Afterwards, the boys stand up and we all give a big family group hug and give kisses to one another. As we're hugging, Elijah says "We're building a strong family!" (from a milk commercial on Disney...lol) It is precious!!!


Luke has started occasionally calling us Mommy and Daddy, instead of Mama and Dada. He started doing the sign language for and saying the words "more" and "all gone" and "milk" all in the same week (2 weeks ago). His sign language for "more" used to be hitting his tray....He's becoming quite the little parrot - echoing a lot more. He's realizing the predictability in books too - he'll fill in words in Goodnight Moon: "and goodnight to the quiet lady who was whispering...HUSH!!!" So precious! He can show you his eyes, ears, nose, mouth, belly, hands, fingers, feet, toes, knees...Becoming quite the little Elijah copycat too!

When we were doing flashcards over lunch, I showed them a picture of an ant, and Luke said the A sound..."A A

Aaaas

" (I think he was trying to say ant!) His Brainy Baby DVD does that for the word ant, trying to emphasize the initial sound. Yeah!! He's learning!!
Elijah has been working on sounding out words and reading 3 letter words. He loves finding the word "God" on all the pages in his Bible. If you say a word, he can pretty much sound out the phonemes. When he sees them, he can sound out most words & read them with some encouragement. He sometimes goes into autopilot though- the word could

be

cat and he'd sound out "Cu Ah Tu---o m. Tom!"


Health Update:
Luke: since 10/14 had cold, then croup, then healthy for 4 days, then croup, then healthy for 1 1/2 days, then borderline walking pneumonia and an ear infection (diagnosed Tuesday)...
Elijah: since 10/14 has remained pretty healthy, praise the Lord! He had a strange cough last week and was wheezing...
Today: after 5 dr visits in 4 weeks, both boys are on antibiotics (Elijah for precaution - so thankful for that!) and using an inhaler (not asthma, just from a viral infection)...Thankfully, we've been able to get out of the house this week and the boys are acting much more like their sweet little selves.


Oh I hope that this will be the worst of their health problems this fall/winter. We've had about enough of being couped up in this house! (Can we say "date night" tonight?! Thank you Carol!)
Posted by

The Burns Family
at 6:53 PM
No comments:

Monday, November 1, 2010
We had a great time at the pumpkin patch! The boys and I went to the one in McCalla on Friday with our playgroup.
Here are the boys on the choo choo train!

We had so much fun with Sadie, Michael, Brooks, and Knox...but we just had to go back with Daddy!

On Saturday, we enjoyed some family time in almost perfect weather (as Stephen and I call it, "a Garth Brooks day").
We had a picnic and then some fun time exploring the pumpkin patch.

The boys just loved the inflatables, or as Elijah calls them, "bouncy playgrounds." Luke is on the verge of learning to jump - he just bounces in place, but he's trying. He had a great time running around, trying to jump.
We couldn't leave without taking a picture by the pumpkin patch measuring stick...

And, of course, we had to go on a hay ride!

Then went to Grammy's church on Saturday night for their Fall Festival. The boys, once again, enjoyed playing on the bouncy playgrounds and trunk or treating. They especially loved dancing to the band that was playing. This is their cousin, Hayden, dressed so cutely as Minnie Mouse!


Halloween morning, we were all set to go to church - all we had to do was wake Luke up and put him in the car w/ breakfast...but we found Luke in no condition to be around other kids. We took him to the after hours clinic at Children's to confirm that he had croup (AGAIN!) So, we missed our 3rd Sunday in a row due to our sick little baby. Poor guy! He felt well enough to enjoy the Halloween festivities later that night though...

Our neighborhood is always pretty busy and gets really into Halloween. Elijah went up to most houses and yelled "ROAR!!! Trick or treat!" and then, after getting candy, he told everyone "Happy Halloween!" and, of course, "Thank you!"

Luke enjoyed walking around, but didn't trick or treat w/ a bag this year.

One lady at Grammy's church tried to give Luke a lollipop, and Elijah was quite insistent on telling her that he was allergic to eggs and couldn't have the lollipop. lol We got Colin to take a picture of the family before taking it to the house and handing out candy.
After we got home, Luke, poor baby, began crying at 6:45 and would not stop until after we laid him in his bed 30 min later. So unlike him. Please lift up our little guy so that he gets and stays healthy!
Elijah, on the other hand, was, surprisingly, in bed by 7:45...however, he was still talking in his bed at 9:50! I think it's the latest he's ever been up (with the exception of Disney)
Posted by

The Burns Family
at 6:34 PM
1 comment: